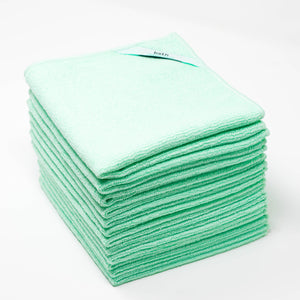 Gold Fennel
Bath Microfiber Cleaning Cloth (Bulk Pack)
Regular price
$36.12
$0.00
Unit price
per
Clean your surfaces smarter and greener with our Premium Kitchen Microfiber Cleaning Towel. Easy cleaning in seconds without using paper towels!
Eco-Friendly & Reusable
Zero Waste Cleaning
Lasts hundreds of washes
Professional Grade
Color-coded to prevent cross-contamination
Premium microfiber cloth with corner tag to hang dry
Uses
Use your light blue microfiber towel to clean any surface in your bath. 
Perfect for:
Wiping sink and vanity
Cleaning bath accessories and decor
Cleaning tub, shower and tiles
Cleaning medicine cabinets inside-out
How it Works
Fold your microfiber towel in 4 (this will give you 8 cleaning sides)
Spray your Bath Microfiber with All Purpose, Wood and Stone or just water.
Clean the area, apply pressure to remove hard spots.
Enjoy a clean surface!
*Rinse after each use and hang dry
Details
Quantity: Pack of Bath Premium Microfiber Towel (12 pack, 24 pack, 36 pack & 48 pack)
Size: 12"x12" (30cm x 30cm)
Color: Light Blue
Material: 80% Polyester + 20% Polyamide
Weight: 1.0 oz
Edges: 4 Threads Over lock Stitching
Washing Instructions
Machine or hand wash in warm or hot water
Use detergent and rinse with vinegar for better results (no fabric softeners)
Wash with other microfiber cloths, use our color-coded system to prevent cross-contamination. 
Hang dry using our corner label or tumble dry low with other no-lint microfiber cloths. 
---